Let's Look Ahead


   With "Atomic Frontier Days", the theme of this years'

celebration, we especially look ahead optimistically to 

new horizons.  The future of atomic energy in the fields

of nucleonics, chemistry, industry and medicine is well

recognized.  The need for development is urgent, and we

who have worked together here for the creation of the 

power that would bring an end to world-wide conflict

resolve to continue these efforts in the hope of bringing

world-wide peace and benefits to humanity.


Who knows?  The 1949 "Atomic Frontier Days" may find us 

well on the road to our goal.


        Calendar of Events


	Starters - Francis Rish, Gene Conley

	Timers - J.S. McMahan, Harold Friend

	Flagmen - W.P. Cornelius, Robert Stephenson

	Registar - Pat Morris

	Starting ramp and equipment courtesy of the

	employees of Mc Neil Construction Company.


4:00 PM - TENNIS ....................... John Dam Park

	Finals: Men's Doubles

8:00 PM - CAVALCADE OF STARS .............Bomber Bowl

	Grand finale with drawing for door prizes, 

	children and adults.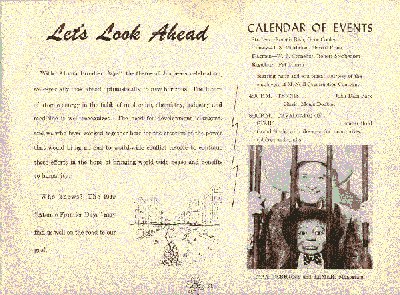 Page Maintenance: Email John Northover